Skip Global navigation and goto content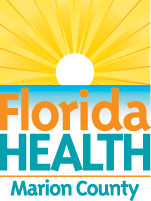 It's a New Day in Public Health.
The Florida Department of Health works to protect, promote & improve the health of all people in Florida through integrated state, county & community efforts.
Skip MegaMenu and goto content
DOH-Marion provides COVID-19 update, announces three new positive cases
March 27, 2020
OCALA, Fla.—Marion County has three new positive cases of COVID-19, the novel coronavirus. Two are Marion County residents with a known travel history – a 28-year-old female and a 49-year old female. One, a 30-year-old female, is a Marion County resident whose travel history is still under investigation. The Florida Department of Health in Marion County is now conducting its contact investigation and working on identifying and notifying individuals who will need to self-monitor for symptoms for a 14-day period.
Testing
COVID-19 testing availability can vary within Marion County. Individuals who are experiencing symptoms AND are over age 65, a healthcare worker, first responder, or who have recently traveled internationally or from impacted areas within the U.S. (i.e. New York tri-state area, Washington, California, etc.), are eligible for testing at the Department of Health in Marion County. To be tested by the Department of Health, individuals should call the Department of Health in Marion County's 24/7 COVID-19 hotline (352-644-2590) to schedule an appointment.
If you don't meet the above Department of Health testing criteria and would like to be tested, please contact your primary care provider to see about the possibility of testing. If you do not have a primary care provider or if your primary care provider is unable to test, you can contact Heart of Florida Health Center (352-732-6599, www.myhfhc.org/) or Langley Medical Center (352-680-7000, www.langleymedicalcenter.com) to see if you qualify for screening at their facilities.
If you are experiencing symptoms and are in respiratory distress, call 911 or go to the hospital for emergency treatment. Share details with 911 dispatchers about your symptoms or call ahead to local hospitals prior to entering their facilities to ask them if you should follow special precautions due to your symptoms. Local hospitals continue to test clients at their facilities.
State health advisories issued
In response to Executive Order 20-83 from Gov. DeSantis, State Surgeon General Scott Rivkees, M.D. issued a public health advisory this week this week focused on vulnerable populations, social and recreational gatherings, and workforce density.
According to the Surgeon General's advisory: "All individuals over the age of 65 and all individuals of any age with high-risk conditions should remain in their residence and take all measures to limit the risk of exposure to COVID-19. These measures include, but are not limited to:
Limiting contact with all persons outside of the home and distancing any unavoidable contact by a minimum of six feet.
Washing hands often with soap and water for at least 20 seconds, or using hand sanitizer with at least 60% alcohol.
Avoiding unnecessary touching of eyes, nose, and mouth, and washing hands prior to doing so; and cleaning and disinfecting high-touch surfaces, including entryway door handles.
High-risk conditions include, but are not limited to:
Chronic lung disease
Moderate to severe asthma
Serious heart conditions
Immunocompromised status (as a result of cancer treatment, bone marrow or organ transplant, immune deficiencies, poorly controlled HIV or AIDS, or prolonged use of corticosteroids and other immune weakening medications)
Cancer
Severe obesity (body mass index (BMI) > 40)
Diabetes
Renal failure
Liver disease
All individuals should also cease participation in social or recreational gatherings of more than 10 people. For all gatherings of fewer than 10 people, individuals should practice social distancing by maintaining a distance of at least six feet from each other.
Further, all business owners, supervisors, managers and others in charge of conducting business in the state of Florida should allow telework of employees to the extent that can be accomplished without significantly disrupting the ability to conduct business. Employers should make every effort to reduce the onsite workforce to 50% capacity, where possible, to the extent that reduction can be accomplished without significantly disrupting the ability to conduct business."
Travelers from areas of community spread told to isolate or quarantine
Gov. DeSantis also issued Executive Order 20-82 this week. Per the order, anyone who enters the state of Florida from an area with substantial community spread, (including Connecticut, New Jersey and New York) is "directed to isolate or quarantine for a period of 14 days from the time of entry into the state of Florida or the duration of the person's stay in Florida, whichever is shorter."
This order is effective immediately and applies retroactively to anyone who entered Florida after being somewhere with substantial community spread within the previous 14 days. Individuals who are isolating or quarantining are responsible for all costs associated with their isolation or quarantine per the order. Individuals affected by this order are also directed to "inform any individual in Florida with whom they have had direct physical contact in the past 21 days that they traveled from an area with substantial community spread."
The order does not apply to airline employees and individuals performing military, emergency or health response. 
On March 25, the state of Florida was declared a federal disaster area in response to the COVID-19 pandemic. This disaster declaration will help the state obtain critical resources to help fight the virus.
For more guidance
For the most up-to-date information on COVID-19 in Florida, visitfloridahealthcovid19.gov. For general questions about COVID-19, call the state hotline (866-779-6121), local hotline at (352-644-2590), or email COVID-19@flhealth.gov. Health care providers should continue to call DOH epidemiology staff if they have questions about testing.